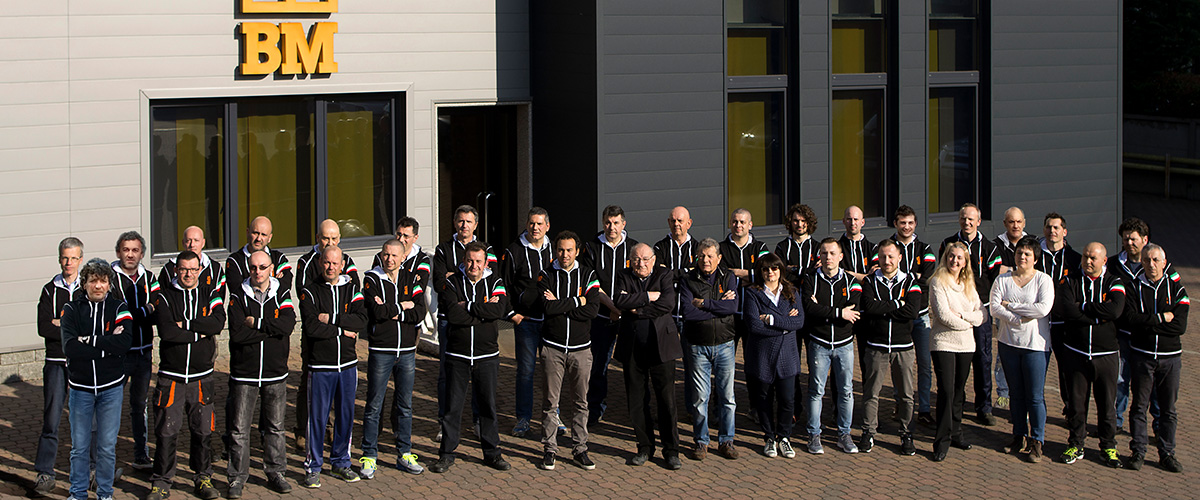 Professionalism, availability and promptness are the main characteristics of all services provided by BM.
Pre-sale advice is aimed supporting the customer's choices as much as possible, according to his actual production and economic needs. Post-sale assistance, instead, is aimed at guaranteeing perfect functionally of the frame saws over time, with periodical maintenance operations and quick and efficient problem-solving.
This way BM establishes trustful relationships with its customers, which is the final aim of all its activity and further strengthens its acknowledged reliability.
BRASILE
Edoardo Do Amaral Russo
Rua Dias Ferreira 25 / 103
Leblon – Rio De Janeiro
RJ CEP 22431-050 Brasile
tel. 0055 21 24953618
mob. 0055 21 999837056
edoardorusso@domain.com.br
CHINA
Tapo Industries Company
Floor 13, Xietong Mansion, No. 3918,
Cao An Road, Jia Ding District, Shanghai, China
tel. / fax +86 21 69922192
tapoind@163.Com
EGYPT
Giza Trading Group
2, Safwat St., Faisal Road
Giza – Egypt
tel. 0020 2 5840943
fax 0020 2 5836540
info@gtgegypt.com
gtgegypt@yahoo.com
ESPANA
Innoservice International 2015, S.L.U.
Lope De Vega 18
28411 Moralzarzal, Madrid (Espana)
mob. 0034 67 9234321
service@innoserviceinternational.com
FRANCE
Sarl Bessiere Ph.
6rd 974 – 21700
Comblanchien – France
tel. +33 0664093418
fax +33 0380629063
contact@bessiere-bm.com
www.bessiere-bm.com
ENGLAND
New Stone Age LTD
7 The Hayfields, Haworth, Keighley
BD22 8HU, West Yorkshire – England
tel. 0044 1535647222
fax 0044 1535647333
www.newstoneage.co.uk
nsa100@aol.com
GERMANY
Christian Rohr
Steinbearbeitungsmaschinen
Leutendorger Str. 10 – D-95615 Marktredwitz – Germania
tel. 0049 9231 660433
www.steinbearbeitungsmaschinen.de
info@steinbearbeitungsmaschinen.de
GERMANY
STEMATEC GMBH
VOGELGEHAU 20
86381 KRUMBACH
Tel: 0049 0171 7517661
rschoelles@stematec-gmbh.de
GREECE
Doumparatzis Stavros S.A.
8 KLM Thessaloniki N.Moudania – P.O. Box 50792
54014 Thessaloniki – Greece
tel. 0030 2310 476775 – mob. 6932 666663
www.doumparatzis.gr
info@doumparatzis.gr
INDIA
Ramac Tools & Instruments PVT LTD
#49, 3rd Floor Madhukar Building,
Cubbong Lane, Infantry Road
Bangalore – 560001- India
Tel. 0091 80 41132705
Fax 0091 80 41238098
www.ramactools.net
babu@ramactools.net
IRAN
Par Sang Fanavar Co.
Unit 6, No. 2, 12th Alley, Sarafraz Street,
Shahid Beheshti Street, P.C.15868-75615
Tehran Iran Zip Code: 15868-33534
tel. 0098 21 88542341 – 88539131 0098 21 88700614
fax 0098 21 88708585
www.parsang.com
info@parsang.com
SERBIA
Darelektro
Kralja Petra I br.9,
Aranđelovac 34300,
Serbia
+381 34 720 999
arandjelovac@gmail.com
ISRAEL
Lamar Import And Marketing CO.LIMC
Industrial Zone – Po Box 337
Hebron – West Bank – Israel
tel. 00972 2 2299331
fax 00972 2 2299333
lamar.inv@gmail.com
JORDAN
Across Oceans Co.For General Trading & Marketing
Mohammed Al-Forat Street No.7 P.O.BOX 15162
11134 Marka – Jordan
tel. 00962 6 4882772 – 00962 6 4882771
fax 00962 6 4882776
almasiah@wanadoo.jo
MAROCCO
New Diamond Maghreb S.A.R.L. AU
Zone Industrielle N.10 Magazen N.2
Ain Atiq Temara Rabat – Marocco
tel. 00212 05 37749559
newdiamondmaghreb@hotmail.com
MEXICO
Isidro Javier Menendez Blumenkron
Mexico
tel. 0052 244 4438253
mob. 0052 1 222 2994796
isidromenendez@hotmail.com
PAKISTAN
Muhammad Yousaf Engineering Company
Plot # 247, Street # 6, Industrial Area,
I-9/2, Islamabad, Pakistan.
tel. #: 0092 514433435, mob. 0092 30 88888759
fax 0092-51-4433437
machinesforquarry@gmail.com
POLONIA
MC DIAM SP. Z.O.O.
UL. JELENIOGORSKA 6
58150 STRZEGOM
Tel: 0048 74 8561350
mcdiam@mcdiam.com.pl
PORTUGAL
PODIODISSEIA
R. Sabino Luis Pedroso, 328, 2 drt.
2785-673 S. Domingos de Rana
Portogallo
Tel. +351 967 913 089
geral@podiodisseia.pt
www,podiodisseia.pt
RUSSIA
Eng. Alexander Nikulishchin
Moscow, Shenkurskiy Passage, 10 B
Russia
tel. +7 916 6823578
+39 347 7205818
alexnik65@yandex.ru
TAIWAN
Free Castle Enterprise CO. LTD
Room 11,2F, NO.96, SEC.2, HSIN Sheng N. RD.
10451 Taipei Chung Shan – Taiwan ROC
tel. 00886 22 5427389
fax 00886 22 5211006
fgcastle@ms31.hinet.net – castle7389@gmail.com
TURKEY
Ege Mermer Sanayi Limited Sirketi
Sirakapilar Mah. Mimar Sinan
Cad. 1584 SK. – No: 2/10 Denilzli – Turkey
tel. / fax +90 258 264 8711 – 26 6508
www.egemermer.com.tr
info@egemermer.com.tr
U.A.E. – OMAN – TUNISIA – LIBANO – ARABIA SAUDITA
Majan Marble Trading
P.O. Box 23600 Sharjah – U.A.E. Emirati Arabi
tel. 00216 98402704
comm1@bmofficine.com
USA
Global Equipment Group, LLC
3718 Buchanan Ave SW, Suite A
MI 49548 – Grand Rapids – USA
Tel. 001 855 4562588
jd@globalequipmentgroup.com